In today's world, your beauty says everything. Nowadays, every individual during his beauty regimen uses face washes. And that pretty necessary thing. People who are not using it are hard to find and that's probably a good thing. Those days when we were using soaps are over which obviously includes a lot of hard substances. Facewash is made from specific ingredients. It is used to look specifically for your skin.
In today's charcoal-based face wash are in trends. And there are many brands to choose from, which makes you confused about what to choose. The most important thing while choosing charcoal-based face wash, which specially made with highly absorbent and therefore good for dirt absorption and skin purification.
So, we have tried Raw Nature's Face Wash (Activated Charcoal with Quinoa Beads), and here's the review about this amazing product.
Product– Raw Nature- Facewash (with Activated Charcoal and Quinoa) 100% Natural
Deep Action Exfoliation
Fights Blemishes
Formulated for Daily Use
DESCRIPTION
The Raw Nature Activated Charcoal & Quinoa Face Wash is a deep-clean, high-impact Charcoal face wash. It is pulverized and steamed into existence, Activated Bamboo.
Charcoal absorbs up to 200 times its weight of impurities, exfoliates. It also clears away the dead skin that stands in the way of an intensive clean wash. The restorative power of quinoa, an ancient superfood, helps to improve its influence. Supported by Maize seeds that revitalize the epidermis and serve as a powerful exfoliant for your skin. It is a type of face wash which is gentle for your skin, yet powerful enough to handle dark elbows and hands.
The products got natural scores which are derived by considering the ingredients. It is also used in formulating the product. Many of us use a face wash that may or may not have naturally derived ingredients. Although there are some face washes that have no natural ingredients but are safe to use. It's because of the stability of the product which they ensure for your skin.
The percentage score, therefore, it reflects the product which is natural or naturally derived.

Ingredients used-
Activated Bamboo Charcoal –
Absorbs up to 200 times its weight in impurities, exfoliates and buffs away the dead skin that stands in the way of an intensive clean.
Quinoa –
Has been fighting environmental aggressors and defending against daily toxin build-up for the past 4000 years. Prevents collagen breakdown, lightens sunspots and acts as an antioxidant to quell free radical-induced inflammation.
Aqua, Coco Amido Propyl Betaine, Glycerol, Sodium Polyacrylate Starch, Xylitylglucoside, Anhydroxylitol, Xylitol, Potassium Sorbate, Sodium Benzoate, Microcrystalline, Cellulose, Lactose, Hydroxypropyl, Methylcellulose, Chromium hydroxide green, Tocopheryl Acetate, Sodium PCA, Chrysopogon Zizanioides, Pogostemon Cablin, Citrus Sinensis, Bamboo Charcoal, Sodium Gluconate, Chenopodium Quinoa, Euterpe oleracea Pulp powder.
All ingredients used are either natural, or naturally-derived or within safe permissible limits as prescribed by ECOCERT.

DISCLAIMER: Colour of the original product (using natural and naturally derived ingredients only) may vary slightly from colors shown on the web.
Raw Natural doesn't contain-
SLS | SLES | Parabens | MEA | DEA | TEA | Petrolatum | Phthalates | Ethoxylates | Artificial Colours | Artificial Fragrances | Silicones
Raw Natural Face Wash will help you with-
Deep cleaning, deep acting exfoliation, and fighting blemishes.
Directions to use:
Gently massage the appropriate amount of the face wash on your face and rinse with water. Use daily for best results. If used as indicated, one bottle lasts 45 days.
Benefits of using this face wash:
100% natural, naturally derived product.
It does not contain any SLS, SLES, parabens, silicones, or any artificial color and fragrances.
This facewash is gentle for your face skin and deep cleans and exfoliates your skin.
It can also be used as an alternative to face mask.
As you know it contains activated charcoal which, is the best for skin-care.
It helps to brighten up your face for a long period of time.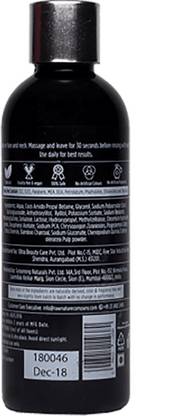 Cons:
As such there are no cons or demerit of this product as it is 100% natural but people concern about how this product smells like.
Since this product has all-natural Ingredients and has an earthly scent which might affect some people.
People who love the floral or sweet smell, this product may not be the right choice.
It does not lather up much, and if you are someone who needs foam, then don't go for it.
How it really feels to use raw natural facewash:
This face wash has a very thick texture with a slight stickiness. It does not make enough foam, which unlike a lot of other face washes do. But hey! It's 100% natural. Most important thing is, it does not contain any SLS or other lathering agents at all.
The color is a deep black, but once applied on the face. It changes to light grey, to almost transparent. The quinoa beads present in this are aqua green in color which looks good and give the face wash extra texture and really brightens up your face.
Personal Thoughts:
The packaging is good and the container is very much likable. The company doesn't overdo with explaining lots of things on the bottle, and it's really simple and handy to carry along with you anywhere. Also available in different shapes and sizes like a pump or, which suits your purpose which easily lasts up to a few months.
The product has a very thick consistency, which means you do not need too much of the product. And of course, the quinoa beads make look so great and are very good natural exfoliant, which doesn't make your skin lose its moisture.
Another best part, that you can also use it as a facemask because it dries uniformly on the face by leaving it on for a few minutes. And lastly, for the purpose, you all use face wash, it really makes the skin brighter with long-term usage (we tested it for more than a week).
Our recommendation
We really like and loved the product. We really do like activated charcoal-based products. It is known to be extremely helpful in bringing even microparticles to the skin's surface. It is also used for deep cleaning of the skin.
Raw Nature's version of it is very good. Since it has quinoa beads which are a super gentle exfoliant, which is ideal for people with sensitive and oily skin. And don't forget its 100% completely natural!
What to look before buying any BPC products.
SLS & SLES-
Sodium lauryl sulfate (SLS) is one of the common ingredients you'll find on your shampoo bottle. SLS is known as a "surfactant". It means it is responsible for creating lather and foaming. It also helps as a cleansing agent. This is because it lowers the surface tension between ingredients.
Unless you are a chemist you'll never know that. SLS is also found in beauty and self-care products as well as used in household cleaning products.
Sodium laureth sulfate (SLES) is a surfactant with a similar chemical formula. However, SLES is milder and less irritating than SLS.
SLS and SLES are found in most of the products like grooming, hair, dental care, bathing products, creams and lotions.
There is no certain report are present which states that SLS and SLES are harmful but there is some research stating that continuous use of these may cause mild to moderate irritation to your skin.
Parabens-
Parabens are also a group of chemical preservatives that are most widely used in Beauty and personal care products.
One single beauty product may contain one or more types of parabens. Although Parabens are often used in combination with other preservatives.
It is used to make sure that they can protect their product from a wide range of bacteria and microbes.
So why Are Parabens not good?
Parabens can easily absorbed by your skin. They stay in your body tissues and fluids. As a result, doctors have detected parabens in breast milk, serum, urine, and seminal fluid and that's a serious concern.
It is also found in a patient's breast tissues who are having breast cancer. According to one hypothesis, the increased incidence of breast cancer in the upper lateral breast area is because of the use of underarm deodorant which contains parabens.
Parabens are considered as xenoestrogens. In other words, these chemicals can mimic the hormone estrogen in your body. Meaning these parabens bind the estrogen receptors in your body. Some parabens like methylparaben and ethylparaben, butylparaben and propylparaben have high estrogenic activity in the human body. This estrogenic activity may lead to breast cancer development.
Parabens can increase damage at the cellular level from UV exposure, and may even lead to skin cancer.
It also sensitizes the skin, causing allergic reactions. A study found that ethylparaben used as an antifungal agent (5%) on human skin caused contact dermatitis
MEA, DEA, TEA-
MEA, DEA, TEA are compounds of Ethanolamines. Similar to parabens ethanolamine is present in a wide range of consumer products like cosmetics, personal care products, and household cleaning products. Ethanolamines have been linked to liver tumors. The European Commission prohibits diethanolamine (DEA) in cosmetics, to reduce contamination from carcinogenic nitrosamines.
What are Ethanolamines?
Diethanolamine (DEA) and triethanolamine (TEA) are key examples of ethanolamine's—a chemical group comprised of amino acids and alcohols. Some other are Triethanolamine, cocamide DEA, cocamide MEA, DEA-cetyl phosphate, DEA oleth-3 phosphate, lauramide DEA, linoleamide MEA, myristamide DEA, oleamide DEA, stearamide MEA, TEA-lauryl sulfate
Health Problems caused by Ethanolamines
Liver and kidney Cancer
environmental concerns (bioaccumulation) 52% to 68% of DEA in hair dyes, body lotions, and shampoos remain on the upper layers of the skin even after washing them off.
organ system toxicity- DEA alters sperm structure, causing abnormalities that affect the sperm's ability to swim and fertilize the egg. DEA accumulates in the liver and kidney, which can cause organ toxicity and also possible neurotoxic effects such as tremors.

Phthalates-
Phthalates share a similar chemical structure as other Ethanolamines and are widely used in consumer products.
Two are widely used in personal care products:
1) Dibutyl Phthalate (DBP) is used in nail polish
2) DEP is widely used in scented products to help the scent linger.
Health Problems caused –
DBP and DEHP lead to endocrine disruption in living organisms. research in humans has shown altered hormone levels in baby boys exposed to DEP and DEHP in breast milk.
Research in adult human males has found that sperm quality and male infertility. These are associated with levels of MEP and MEHP. These higher levels lead to more strongly impaired sperm motility. Reduce fetal testosterone production, and these anti-androgenic effects may alter fetal cell differentiation and function, leading to altered male genital development
BP has been shown to cause proliferation of breast tumor cells. It also used to make anti-estrogen treatments, such as tamoxifen, less effective against tumors
Ethoxylates –
Ethoxylation can create small amounts of 1,4-dioxane and leave residual ethylene oxide in the product.
always look for on the label which includes PPG, PEG, polysorbate and ingredients that end in –eth such as laureth, steareth, ceteareth.
Health Problems caused
In research, it has been found out that 1,4-dioxane readily penetrates the skin causing cancer or birth defects
It also the cause of the development of toxicants in a male and female reproductive resulting in decreased fertility, increased fetal deaths, and heritable chromosomal translocations.
Short-term usage of this may result in nausea, drowsiness, headache, and irritation of the eyes, nose, and throat.
Stories you may like –
Natural Beauty Tips for Every Skin Type
This Lockdown Try Rejuvenating Body Wellness Spa at Home
Have Acne Problem- Here's a solution
Reasons To Choose Leather Clothes
Small tips to more heat up your happy Marriage Life